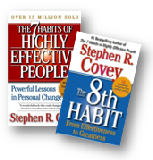 Note Grouping
James Thurmond
The definitive text to unleashing the secrets of musical playing. A must-read for any serious musician.


Anatomy of the Orchestra
Norman Del Mar
A very comprehensive account of the history and elements of the orchestra. Can be appreciated by both the advanced musician and the novice.

Casals and the Art of Interpretation
David Blum
Another great approach to musical playing. Contains several quotes and stories of cellist and conductor Pablo Casals.

Essay on the True Art of Playing Keyboard Instruments
C.P.E Bach
This is an invaluable resource to appropriate execution of Baroque style. The section on "ornaments" should be read by all serious musicians.

The Flute Book
Nancy Toff

The Study of Counterpoint
J.J. Fux
The "7-Habits Books"
Stephen Covey
Wonderful approach to living life with confidence and integrity. Several books in this series by Stephen R. Covey and his son Stephen M. Covey.
Highly recommended.

Sacred Hoops
Phil Jackson
Insight to team management that is applicable across all disciplines.
Written following the 70-win season of the Jordan-era Chicago Bulls.

Fish!
Stephen Lundin
Harry Paul
John Christensen
A quick read giving "a proven way to boost morale and improve results."

In Process
Ensemble Motivation and Morale
Warm-up
Performance Anxiety
Effective and Efficient Practice
Tips to Get the Most Out of Your Lessons
Tips for Preparing for Ensemble Rehearsals


The Checklist Manifesto
Atul Gawande
Solutions to efficiently organize tasks for simple, complicated, and complex projects that promote communication, teamwork, and eliminating error.